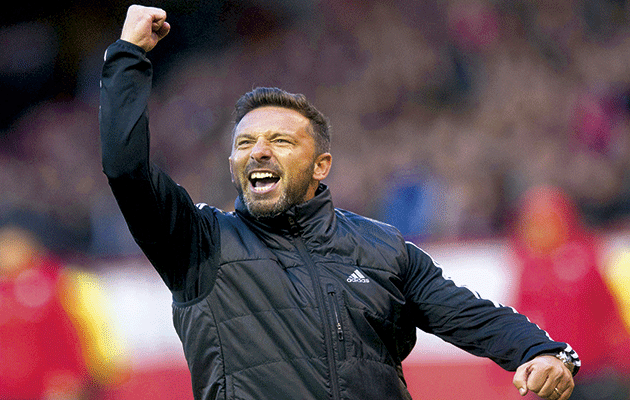 It's 30 years since Aberdeen last won Scotland's top league, but Derek McInnes has had some people talking about the Dons in those terms again.
So who better to look forward to Saturday's showdown between Aberdeen and fellow title challengers Celtic than some of the players that were around in the heady days of the '80s.
Multiple silverware-winning captain Willie Miller believes the team's recent bad run is just a blip, and Saturday is a terrific opportunity to get back on track in the best possible way.
He said: "It's an opportunity for them to put the last four league games behind them and prove to the nation that the first eight games of the season are the real Aberdeen.
"These eight games were fabulous defensively with only two goals against and in that run they beat Celtic, which they didn't do last season, so there was a lot to be pleased about.
"Now they have hit this little blip in the league, which has surprised everybody – particularly the amount off goals they have lost.
"So I think this gives them an opportunity to bounce back and make a statement that they're still there and there is still intent there to take the title race certainly into the new year and as long as they possibly can.
"So I'm sure Derek McInnes will be looking for a good performance and if he can get the three points it would be a wonderful result."
Neale Cooper has seen some similarities between McInnes' reaction to recent disappointments and the way his old gaffer Alex Ferguson used to deal with them.
He said: "Derek didn't hold back but it doesn't do any harm to give your players a bit of a kick up the backside sometimes.
"They have been highly praised in the press and by the manager – rightly so.
"Derek had a pop in public but it was something Sir Alex used to good effect at Pittodrie. Fergie would even have a go after we had won games.
"He famously slaughtered us after winning the Scottish Cup, four days after beating Real, but it definitely kept us on our toes.
"You'd read the stuff in the paper and think, 'that's harsh', but you'd be out to make amends. Derek has a bit of that in him, there are shades of Fergie. Like him, Derek sets high standards and won't let anyone drop below them."
Billy Stark is the only player to win the title with both clubs, and he added: "It's still early, but Aberdeen have proved they're serious contenders.
"Given the gap in resources, if Derek can guide Aberdeen to the title it will be a phenomenal achievement – equal to anything Fergie did."
Image source: World Soccer magazine