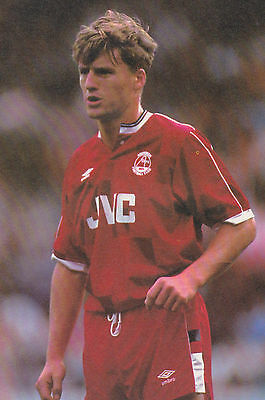 The unsung hero of the early 90s comes under BobbyBiscuit's microscope.
After only a mere 14 first team matches at Stirling Albion, a young local lad found himself subject to nationwide interest. Celtic, Manchester City and Arsenal were among the clubs chasing the player, but in the end Brian Grant joined Alex Ferguson's double winning Aberdeen side in August 1984 for the modest sum of £40,000.
With a side bursting at the seams with top quality players, it was obvious the youngster was a player for the future, making only one subsitute appearance that season in the League Cup, but his progress was hampered by a broken leg.
On returning to the reserve side, coach Teddy Scott felt he needed a new challenge, his game in danger of going stale under a depressive cloud after his injury and lack of first team action.
His remedy was to move the slightly-built midfielder up front. And it worked to perfection. He banged in 8 goals in 5 matches and with his form and confidence restored, first team action beckoned.
In a match against Hibs at Easter Road, Aberdeen's two goals came from Grant and fellow youngster Stevie Gray who had flitted in and out of top team action for a couple of seasons and looked just as promising as Grant himself. But the future for the two was to hold very differing fortunes.
As Gray's time at Pittodrie petered out amidst rumours of heavy drinking and a party lifestyle, Grant was now a full time member of the first team squad, and maturing into a very tidy midfielder.
In season 88-89, he made a massive claim for a regular first team place with a stunning 20 yard half-volley and all round tremendous performance at one time would-be suitors Celtic. It wouldn't be enough though to secure a place in the League Cup semi-final the following midweek however, nor for the top of the table clash against the huns at Pittodrie. Granty was certainly unfortunate to miss out, but a team mate's misfortune would later turn out to be of massive benefit to him.
That league encounter with the huns, more or less, killed the career of one of Britains finest midfielders. That was undoubtedly the start of the end for the fantastic Neil Simpson. And as much as I'm sure Brian Grant would have preferred to gain the number 4 shirt in better circumstances, Simmie's situation (lawsuit and injuries) opened the door to Grant, and he never looked back.
In the following seasons he became a regular, an automatic pick even. His play was never fancy, but it was absolutely everything a midfielder's perfomance should be. He could win the ball, pass the ball, gave tremendous support to his defenders and attackers alike.
In the modern day game, we hear how a midfielder is now a defensive midfielder, or an attacking midfielder, but Granty was all of those things, just as a top class midfielder should be. Playing alongside Jim Bett he perhaps was never as nice a player to watch as Jazzer, but he was certainly the more consistent out the two.
In season 90-91 Grant was a stand out in an outstanding Dons team, but scarcely received the credit he was due. Never a player to run to the papers with outlandish claims or nauseating whingeing, he seemed to conduct himself off the park the same as he did on it.
Clearly a fairly quiet guy, this perhaps did him no favours when it came to Scotland. Around his time, Granty saw the following players receive international honours ahead of him: Peter Grant, Stuart McCall (umpteen times), Mike Galloway, Dave Bowman (yes, Dave f*cking Bowman!), Jim McInally, Gary McKay and Robert Connor. I'm sure I don't have to point out the utter idiocy in that.
He should have won international caps, of that there is no doubt, but if he wasn't appreciated by those at Park Gardens, he could at least have the comfort that the people who mattered at Aberdeen knew just how important he was.
In the run up to the 1993 Scottish Cup Final, double disaster struck. Eoin Jess first of all broke his leg, and then Grant broke his arm.
The race was on for both, Grant returned one week before the final, scoring in a 4-1 win at Tannadice. Willie Miller was a relieved manager. Of the two injured Dons, Miller revealed he was more concerned about going into the final without Grant than boy wonder Jess.
He was right too. Grant was fantastic and even though we lost, he was man of the match... even the Sunday Mail Star Check gave him 10 out of 10!
In the following seasons, the Dons performances were about as inspiring as a Steve Paterson monologue, and Granty's performances dipped too, but produced some strong performances when we needed it most... to get us out of what seemed near certain relegation.
In a midfield with Paul Kane, Peter Hetherston and Ray McKinnon, Bryan Robson would have struggled to perform well, but Grant found form before it was too late. And then Roy Aitken (spit) decided to play him at full back and it was evident his time at Pittodrie was closing.
Never a show off, never going to draw the crowds in, never going to win a multi-million pound move, and we probably never realised just how good a player Brian Grant was until he wasn't there.
BobbyBiscuit