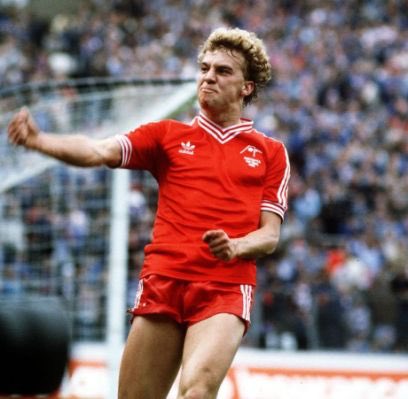 BobbyBiscuit remembers the Gothenburg Great and Community Coach's playing career.
I couldn't give you the hard facts on this, but I wouldn't imagine that many Scotsmen have scored goals in the quarter-finals, the semi-finals and the final of European competition in the one year. Neil Simpson has though.
After signing for Aberdeen in 1978, Simmie would go on to form part of the spine of the most successful Dons side in history. A good all round midfielder his main strength was his power and drive, but, due to one unfortunate incident later in his career, his skill and quality passing seems to be over looked these days.
It is true that he was in the midfield to provide a foil for Gordon Strachan and Peter Weir, more often than not his job was to win the ball and give it to the wide players who would then torment the opposition full back. But, he was a player equally comfortable with the ball at his feet as he was taking it from his opponents.
Just ask the Waterschei defence. The semi final of the European Cup Winners Cup. Simmie intercepts a slack pass from the Belgians, he steps away from the intended recipient and heads for goal. He side steps one defender, and then another. As a third comes to him, he rifles the ball into the bottom corner of the net and wheels away in utter delight.
His goal that night was of course, just one of five the Reds scored to set up a final with Real Madrid in what was and still is the biggest night in our clubs history.
On a heavy pitch, saturated by the torrential rain, Simpson just about ran himself into the Ullevi mud bath. He was sensational that night; it couldn't be far from the truth to say that he was Man of the Match. There were of course other contenders, Peter Weir for his breathtaking wing wizardry, Gordon Strachan for his craft, but Simmie never once stopped running; the original 'Player's player'.
Simpson stayed loyal to the Dons, when others jumped ship for 'better' options; he remained at the club he had supported as a boy. A fantastically consistent player over the eleven years he served, he was a massive favourite with the fans.
After missing out on most of the 86/87 season through injury, when he made his return from the bench at Pittodrie, the chants of 'Simmie! Simmie! Simmie' nearly brought the roof down. Even the Main Stand chanted his name that day, wouldn't be surprised if Dick Donald had joined in too. I would hazard a guess that only one or two other Aberdeen players would have received that welcome back. It is no overstatement to say that he was actually loved by the fans.
As I sat down to write this article about one of my favourite Dons, I had the dilemma of mentioning you know what, or not. So, I'll keep this brief.
Neil Simpson was a player with no previous when it came to bad challenges.
It was unfortunate. But, I can sadly assure you that day in October 1988 that only one mans career came to an end. It wasn't Iain Durrant's. The subsequent lack of support given to Simmie regarding the whole ugly affair was sickening, and I am under no illusion that had Alex Ferguson still been at the club, the witch hunt that followed would never have happened.
Despite pressure from fans, the club still refuse to give Simpson a testimonial, even though he is now back at the club involved in coaching school children.
It is spineless of the club to deny Simmie one last day in front of his adoring public, but rest assured that if any of the children he coaches ever make it into the Aberdeen first XI, the one thing they won't lack is a backbone.
BobbyBiscuit