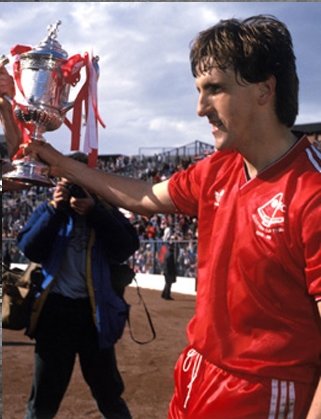 Aberdeen Mad contributor Calum Gilhooly looks at the career of Aberdeen's legendary left-winger.
In the summer of 1981, Aberdeen manager Alex Ferguson broke the Scottish transfer record by spending £330,000 on St Mirren's Peter Weir with popular winger Ian Scanlon moving in the opposite direction as part of the deal.
Weir, who was a Dons fan as a youngster, had already been capped by Scotland and much was expected of the flying left winger.
Weir made his unofficial debut at Pittodrie in the summer of '81 in a friendly against West Ham and had a fine game, scoring the first of the Dons' goals in a 3-0 win.
Peter settled quickly into his role wide on the left of Aberdeen's midfield, and just over a month into the season came what some observers claim was Weir's finest hour in a Dons shirt.
Aberdeen had been paired with Ipswich Town, then a huge draw in English football, in the first round of the UEFA Cup; a task made all the more difficult as Ipswich were the holders at the time.
Despite all the confident talk from down south, the Dons came away with a very creditable 1-1 draw, and the second leg at Pittodrie was set up for a cracker. Weir had gone into the game in fine form, having scored twice in the previous match away at Airdrie and as history shows, that form continued.
Aberdeen swept the English side away with Weir the architect. 1-1 at the interval, Peter Weir destroyed England full back Mick Mills time and time again and topped his performance off with two wonderful goals to send the Pittodrie crowd home in raptures.
Weir continued his form in the second round, scoring again to help Aberdeen see off Arges Pitesti, but the European dream was to come to an end in the following round against SV Hamburg. Tellingly, Weir missed both legs due to injury. He would get the chance again though.
For the remainder of that season, Weir was in and out of the side due to injury, but he made a contribution to the side reaching Hampden for the Scottish Cup Final by scoring in the semi final against his old club St Mirren. Aberdeen won every one of their last nine matches of the season, Weir playing in four of them. Heartbreakingly for Peter, the final was one of the games he missed.
The following season, Aberdeen of course not only reached the final of the Cup Winners Cup but won it, beating Real Madrid in Gothenburg. Weir had one of his finest games for Aberdeen that night, including the pass for McGhee to eventually cross for Hewitt and... ach, you know the rest.
It was a fantastic season for Weir, a regular in the side, a recall to the Scotland squad and a few important goals along the way, the winner in the Scottish Cup semi final against Celtic sticking in my mind.
Weir carried on where he left off the following year, with Aberdeen sweeping all aside in an effort to reclaim the Premier League title. Although the Dons were to fall short in winning back-to-back Cup Winners Cups, another European trophy found its way to Pittodrie when a Peter Weir-inspired Aberdeen beat the European Cup holders SV Hamburg to claim the Super Cup. Peter managed to finally get his hands on a Scottish Cup winners medal and a league winners one too, as the Dons completed the domestic double.
The 84-85 season was, to Peter's standards anyway, a poor one. Aberdeen retained the league title, but Weir's season was ravaged by injury, making only 17 appearances. By now, the great Dons team was slowly breaking up but Peter showed no desire to move anywhere else. He continued patrolling the left wing at Pittodrie despite regular injury concerns until Ian Porterfield replaced Ferguson as Dons manager.
Porterfield had his 'favourites' and it was clear that Weir wasn't one of them. Being slowly forced out of the team, Peter finally left Aberdeen for Leicester City in 1987.
It was to be a short journey in England and in 1989 he was on his way back to Scotland with his old club St Mirren, although Peter could have been back in a Dons shirt. Then Dons manager Alex Smith offered Weir a return to Pittodrie as a central midfielder, but Weir turned the chance down. A decision he regrets to this day.
Weir eventually called it a day after a short spell at Ayr.
Peter Weir was one of, if not THE, favourite players I ever saw at Aberdeen. I didn't think Aberdeen would ever get someone to fill Arthur Graham's number 11 shirt, but boy they did. Then some.
You have to be careful these days calling a player a 'legend', but Weir was without any doubt a legend for Aberdeen.
CalumGilhooly