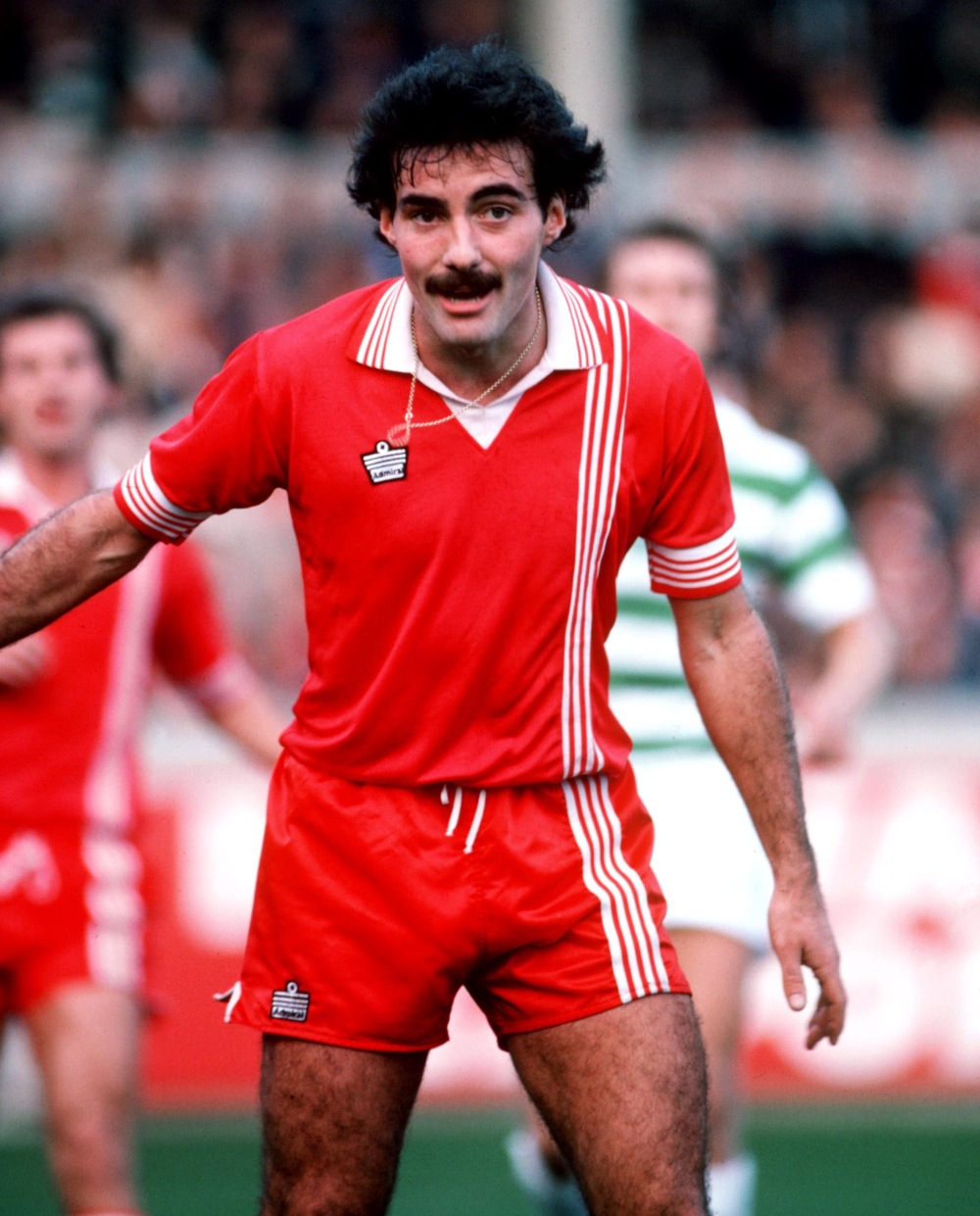 Sweeper, captain, multiple trophy winner, Scotland stalwart, Director of Football, and above all the face of the Aberdeen-Mad Jolly Miller - Willie Miller has done it all. And now BobbyBiscuit tries to summarise all this in one article...
It is common knowledge that Sir Alex Ferguson is not overly-keen on his players receiving too much acclaim in the media and press. Indeed, when he believes this is happening, he has been quick to bring his player back down to earth with a bump or perhaps even a flying football boot to the eye.
But it is also said by those who know Fergie best, that there have been four players - and only four players - he would allow to enjoy unrestricted praise: a trio of Manchester United legends and captains in Bryan Robson, Eric Cantona and Roy Keane, and his captain and "mirror image" on the park at Aberdeen, Willie Miller.
Captaining the Dons to a League Cup success when he was just 21 turned out to be merely the tip of the iceberg. In the years that followed, Aberdeen picked up a further nine domestic titles and two European titles under his captaincy, and he scooped a double player of the year award in season 1983/84. He started out as a striker, but was quickly turned into a sweeper, and went on to win over 60 caps for his country, including captaining them in the World Cup Finals in Mexico 86.
That's the stats out the road, but looking at the bigger picture, they dont even tell you half the story of the player.
Ask opposition fans about him, and they would probably have him listed as one of the most hated of opposition players. He was always moaning, always tough in the tackle, he wouldnt let the ref away with any dodgy decisions, he would stick up for his team mates, he would berate his team mates for any small mistake, he would lead by example, he would take responsibility.
In short, he was being a captain. And he was being the best captain you could ever get, and that is just part of why others hated him, and only part of why we all loved him.
As far as footballing abilities go, he was basically just an exceptional defender. His tackling was so well timed he could have been sponsored by Accurist. He read the game beautifully, and these two attributes were the catalyst for the team's success. He could bring the ball out of defence and his fantastic passing was often the start of an Aberdeen goal, as was shown in the 1986 Scottish Cup Final, when a 60 yard pass to John Hewitt led to Aberdeen's first of the afternoon.
Miller was revered throughout European football, and this was certainly the case after the famous victory over Bayern Munich in 1983. Their star striker, Karl Heinz Rumminegge, was to later say that Miller was the best defender he had faced, and it's little wonder. The West German hardly had a kick over the two legs, and for a player of his standing to have so little effect is a massive compliment in itself to Miller.
As Ferguson left Aberdeen for Manchester United, Willie Miller admits to being depressed at the prospect of losing such a great manager. But he also knew that the club had it in itself to bounce back, that the players around Miller were still capable of helping their captain claim yet more trophies.
Perhaps, though, this optimism wavered slightly, as Ian Porterfield took charge and the Dons side seemed to stagnate. There is perhaps no greater testament to the influence of Miller on his team mates than a story recounted by Jim Leighton about a midweek trip to Ibrox.
Porterfield named his side, gave his team talk and left the dressing room. The captain strongly disagreed with the tactics offered up by his manager. He told his team mates they wouldnt be playing to their managers tactics. They would be playing to his. And they did. And Aberdeen won 1-0, with Willie Miller scoring the goal.
Willie Miller's career was effectively ended by an injury picked up whilst playing for his country, and was forced to retire in 1990. While his team mates often joked that he earned so much more money than them, you do have to wonder how much Miller would have been worth these days. With John Terry thought to be on a £120,000 per week contract, and defenders such as Sol Campbell having been transferred for eight figure sums, where could we realistically value Willie Miller?
The Italian football journalist, Gabrielle Marcotti, has been quoted as saying he'd pick Miller over AC Milan and Italy legend Franco Baresi, and if you've ever seen Miller play, you can certainly agree with him. If Miller played for a Manchester United, an AC Milan or a Real Madrid these days, he'd be proclaimed as being one of the finest defenders in the world. And if he was playing in the modern era, he also wouldnt have to try to deal with Alan Hansen tackling him while playing for Scotland.
In 1986, Argentina won the World Cup, and while their team was littered with good players such as Jorge Burachaga, Jorge Valdano, and Neri Pumpido, it is hard to see them winning that tournament without Diego Maradona. In a similar vein, it is hard to see Aberdeen winning the Cup Winners Cup without Willie Miller. Jim Leighton, Gordon Strachan and Mark McGhee were tremendous players, but Miller was genuinely world class, and without his leadership it could all have been so different for us.
The history of Aberdeen Football Club will forever have the name of Willie Miller at the forefront. He is the most iconic of all Dons players, and this Dons fan feels so privileged to have seen him play. In our centenary year he won the accolade of the Greatest Don of All Time. Did we really need to run that poll? We should have ran a poll for the best of the rest, it would have at least have had an element of surprise to it, but even the best of the rest couldn't argue with Miller winning that. Put simply, there's only one Willie Miller.
BobbyBiscuit