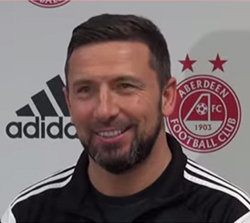 David Goodwillie's stunning overhead kick sent the Dons on their way to their sixth straight league victory, which was made safe by Cammy Smith's injury-time goal.
McInnes said: "We can't deny that is a great feeling to be at the top of the league.
"We said it was all about the game today and that it was another three points up for grabs, just like any other game, but that extra bit of motivation to go top of the league is something that the players recognised.
"The players looked ready to play today, even before we knew about the Celtic game being postponed, and it was a top performance. It just shows what they are capable of and they should feel good about themselves tonight."
McInnes has also shrugged off speculation linking him with everyone from English top-league side West Brom to lowly Glasgow outfit The Rangers.
The Dons gaffer has insisted that he's not interested in moving from Pittodrie.
He said: "Nothing will deviate from what I'm doing at Aberdeen and I'm enjoying my time with the club. My job, as it is with the players, is focused on continuing the good work here.
"Most managers see jobs as long term but it doesn't always work out that way. Aberdeen is a great place to work and we've created an environment where everyone enjoys working which is why getting the players to sign new deals has been easy.
"It's the same for my assistant Tony Docherty. Both of us really enjoy working here."