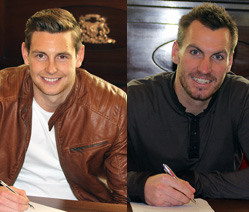 The Dons boss has taken keeper Brown from Cheltenham Town and Taylor from Tranmere Rovers.
The Dons have already signed Shaleum Logan from Brentford and manager Derek McInnes is keen to get his squad in place early due to the early start of the qualifying rounds of the Europa League.
He told RedWeb: "[Brown] has got good experience. He's a good age for a goalkeeper and again another one who will get better with us.
"[Taylor] has got a great presence and he's at a great age. He's only 23 years old but has already played 200 games in League One in England and he's a player we think we can work with and improve.
"We faced significant competition from Championship clubs and I am delighted that Ash sees Aberdeen as the right move for his career.
"Both players, alongside Shay Logan, bring a level of experience and ability that will hopefully improve us as a club.
"I'm delighted we've been able to sign three key players that we had targeted.
"We will look to bring in one or two others to help strengthen our squad."