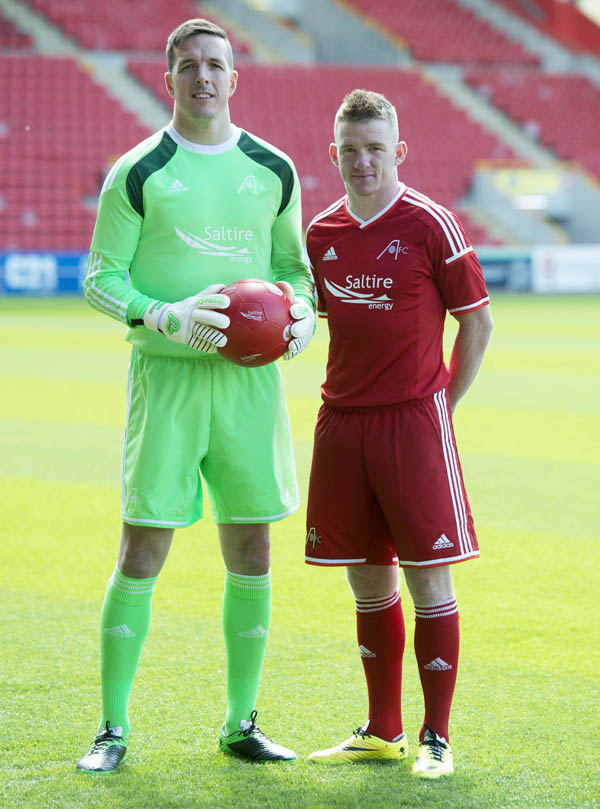 The smart new kit is modelled on the 1984-1985 kit which was the last time the Dons won the Scottish Premier League.
The shirt recognises the success and heritage of the past but is based on Adidas' bang up-to-date Condivo 14 template.
Alongside the traditional crest, which was first used on an AFC strip in the 1979/1980 season, the shirt has horizontal stitch detailing but includes a modern twist with the addition of the 'poppy' colour pops.
Modelling the kit, Jonny Hayes said: "I think the new kit is really nice. It's a nice touch having the retro badge. You can see the reaction on twitter already so the supporters seem to be liking it."
Fellow tailor's dummy Jamie Langfield added: "The new kit is really nice. I had the opportunity to wear the top in the league cup final. It is very light, I like it. The retro badge is a bit different. I think the fans will like that as well.
"I have done a few of these kit shoots over the years now! I am always seem to be in green! I am looking forward to wearing it this season."
The new kit is now on sale from the Pittodrie Club Shop and www.afc.co.uk/shop in a range of sizes, including mini kits from age 1-2 years.