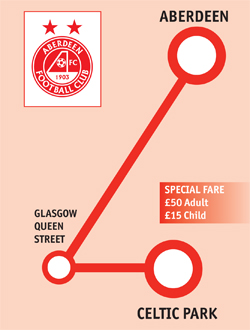 Two return fares from Aberdeen to Bellgrove via Glasgow Queen Street will be available for £50 for an adult fare and £65 for an 'adult and child' ticket. No alcohol will not be permitted onboard the trains.
Tickets will go on sale at 9am on Friday 28th February via a merchandise unit in the Pittodrie Street car park with sales on a first come, first served basis.
Should any tickets remain sales will continue from 9am on Monday 3rd March. All those purchasing rail tickets will be required to provide their name and address, and proof of purchase of a match ticket.
AFC vice-chairman George Yule said: "Aberdeen supporters face real challenges getting to and from Glasgow so we are pleased that ScotRail have provided extra trains and arranged reduced fares for our fans making their way to Glasgow for the League Cup Final - this will assist in reducing congestion on the A90."
For further information, download the flyer here or visit official Dons site RedWeb.