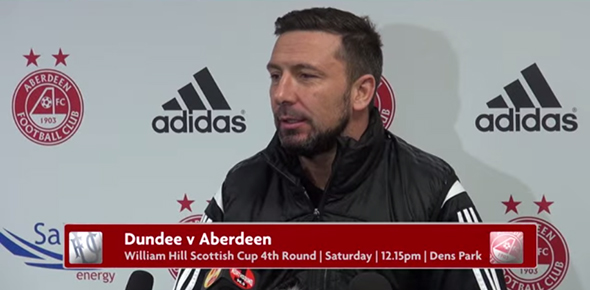 The Pittodrie club paid the price for not taking their opportunities as they lost 2-1 at Dens Park in the televised fourth round tie as David Clarkson's 90th-minute winner saw him continue his rich vein of scoring form.
Aberdeen will now switch their focus to the League Cup, which they won in March after beating Inverness and have the chance to get back to the final when they face New Firm rivals Dundee United in the semi-final at the end of January.
Speaking in the wake of their William Hill Scottish Cup exit at the hands of Dundee, McInnes said: "It's a sore one to take but we have to move on.
"When the final comes around we'll feel worse because we aren't there. We all know that.
"So the only time we'll feel better is if we can lift a trophy this season.
"We played some really good stuff (against Dundee) but you obviously have to take your chances in games like this.
"That's the reason we're not in the next round but I can't really be too hard on the players.
"They put a lot into the game and didn't really deserve to be on the losing side, but that's football for you and it's all about how you come back from a defeat like this, which is important as far as we're concerned."
Source: PA Sport